La Mirage Mansion: A Luxurious Oasis In Texas – LUXXU has unveiled a crucial imperial complement, a furniture collection, with which you can create stunning environments. Offering noble-looking finishing and materials, where customization flourishes. Continue reading this Bedroom Ideas article to learn about a unique project in Texas that contains an amazing collection of classic pieces.
Master Suite
The Master suite, which is divided in half into a bedroom and a closet, is tastefully furnished with a variety of exclusive designs. The Shard luminaires and Algerone furniture from LUXXU command the suite's contemporary allure. The Algerone Bed, for instance, was positioned directly in the middle and bathed in calming light from the Shard Suspension. The Otto Sofa and swivel armchairs also add a touch of velvet and mid-century style.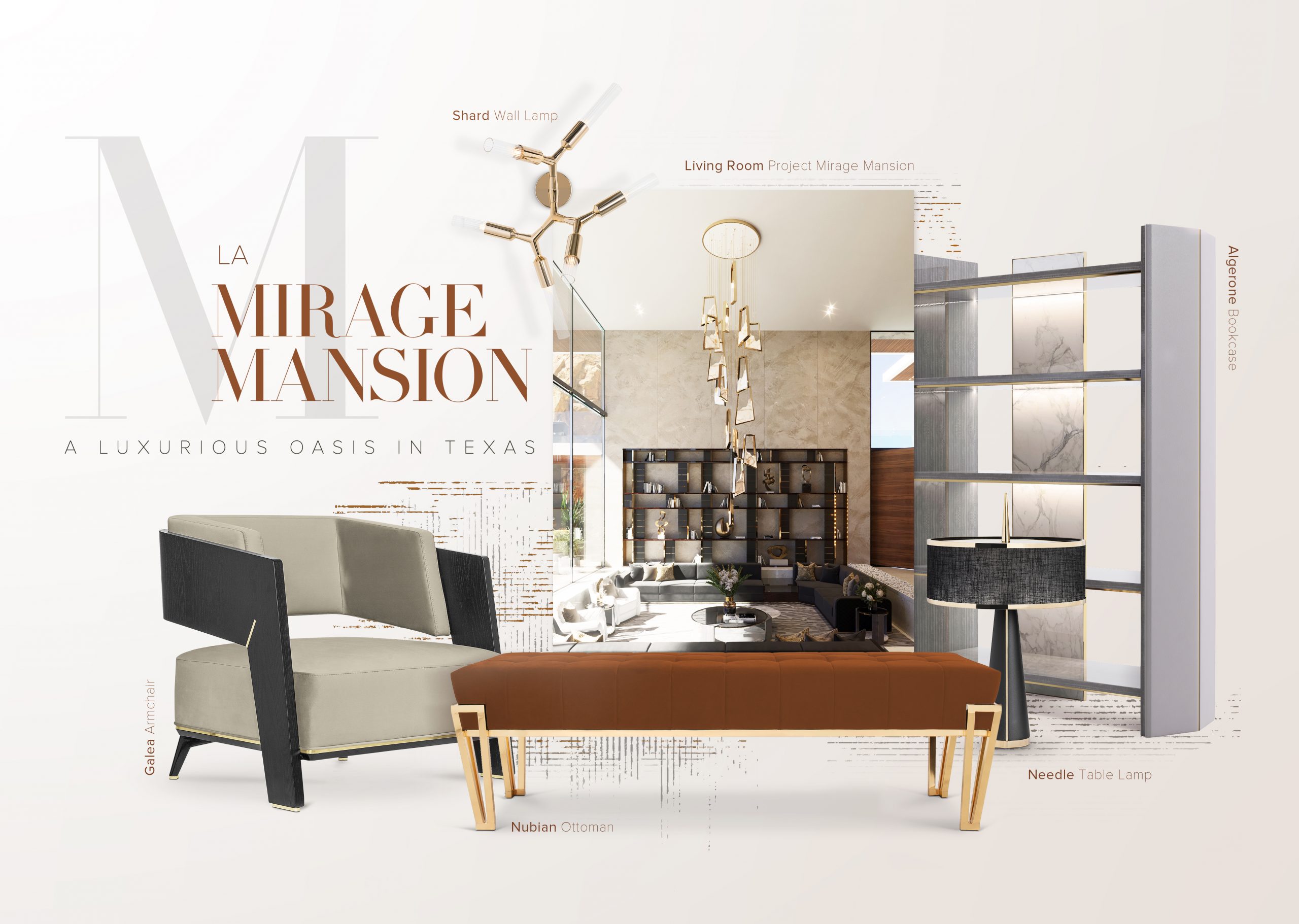 To recreate a breathtaking oasis mansion, the Lone Star state was ideal. The outdoors unquestionably convey the breathtaking landscape of the South Central state, while the interiors may not do so in the traditional sense of Texan interior design. One can expect to find a contemporary atmosphere enhanced by a wide selection of unique designs by LUXXU in every single division inside La Mirage Mansion in Texas, which embodies luxury in its most refined form.
---
Entrance
The open-plan design is undoubtedly fully utilized in this Texas oasis. A large space with a palatial feel greets visitors as soon as they step inside the mansion. It is completely furnished in unique styles. The Magna Wall Lamp and the Algerone Ottoman together created the atmosphere for what was to come. The enormous door is further embellished with a Cosmopolitan-styled Skyline Door Pull by PullCast that is of towering proportions and has brass and Nero Marquina marble details.
---
Hallway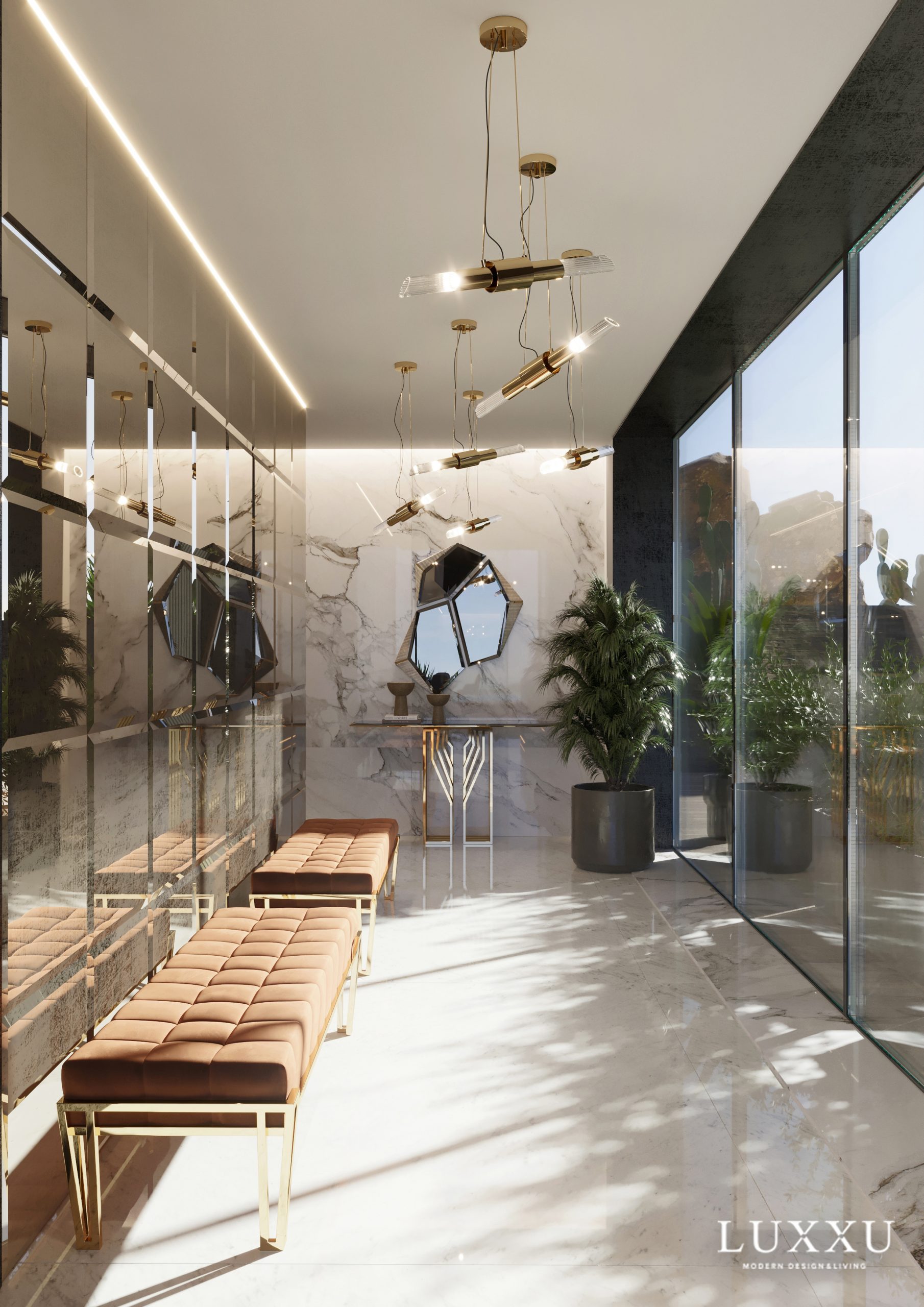 LUXXU chose to decorate the mansion with a closed hallway that had views of the outside. A contemplative setting that seamlessly combines comfort and luxury. The Scarp Console and Algerone Mirror, with their distinctive forms, add aesthetic value while the Nubian Ottoman transforms into the ideal place to unwind. Finally, a number of Tycho XS Small Pendants shine light on the space.
---
Living Room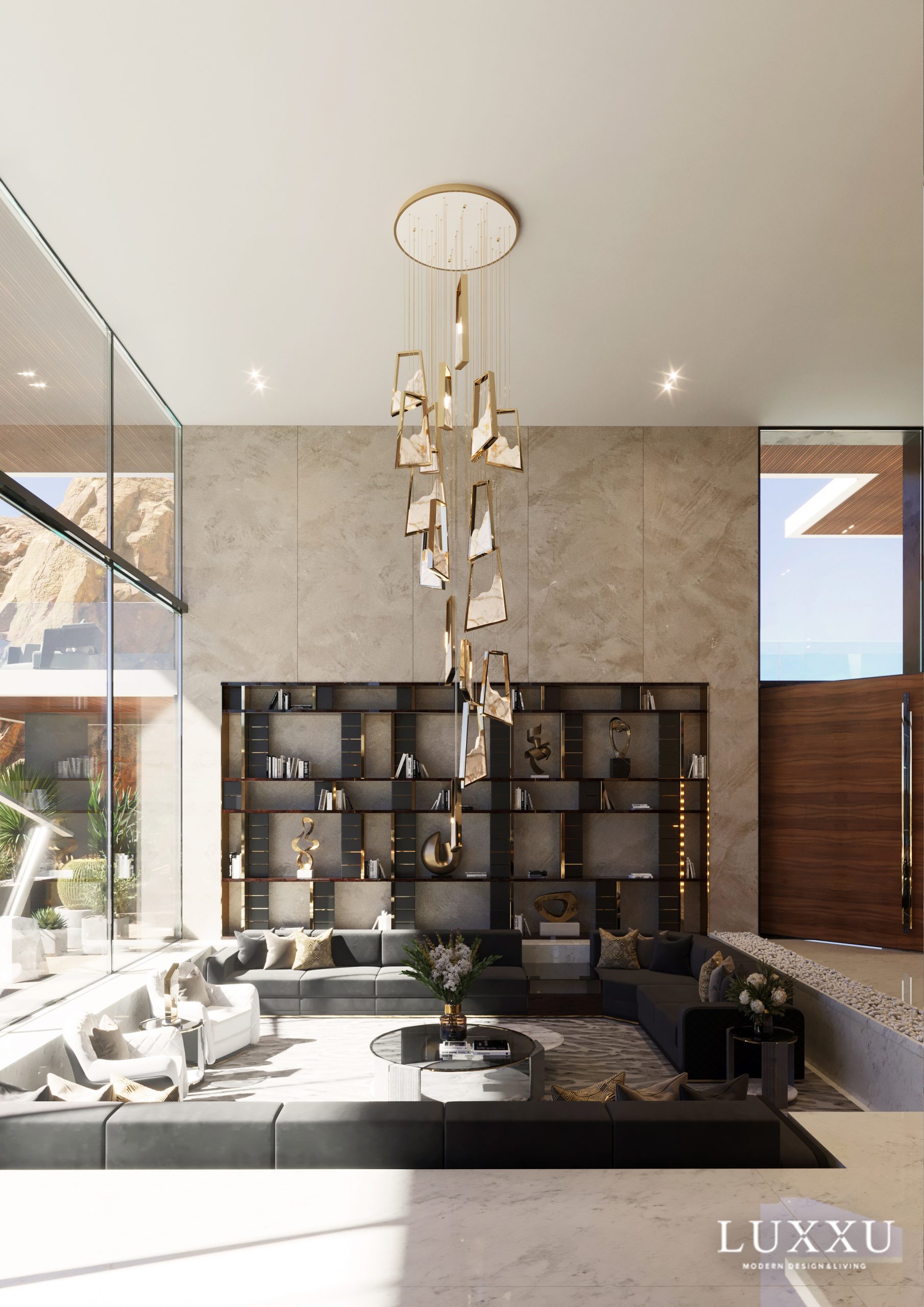 One can fully appreciate each design's beauty thanks to the high ceilings. The elongated and elegant structure of the Thomson Sofa commands attention. The Charla Armchair and the Algerone Center Table are perfect partners. Poetic beauty is introduced by the Magna Chandelier. The organic forms of nature and the breathtaking mountain scenery that goes hand in hand with the home's location served as the inspiration for this piece. In conclusion, the Lloyd Bookcase's timeless and understated lines make a significant statement.
---

---
Dining Room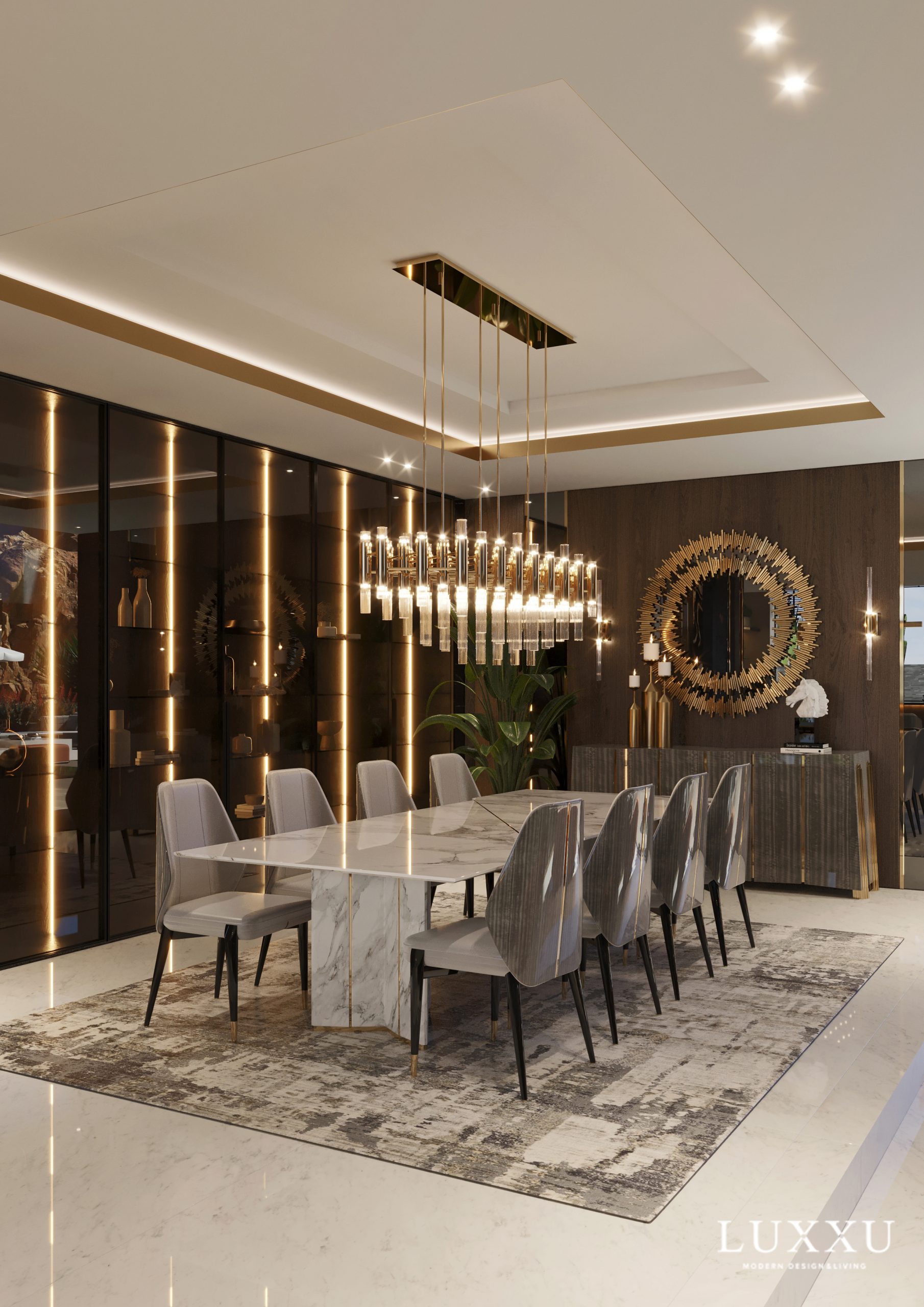 Once more, the Algerone collection asserts itself, giving this dining room a sense of architectural attitude and contemporary glitz. For instance, the Algerone Rectangular Dining Table features polished brass accents and is made of Statuario marble. The Waterfall Rectangular Suspension, a stunning lighting piece made of brass and crystal glass, is shown above. The Scala Mirror, a display of fine craftsmanship, ups the ornamental game in this room's decor while the Darian Sideboard is available for additional storage space.
---
---
Kitchen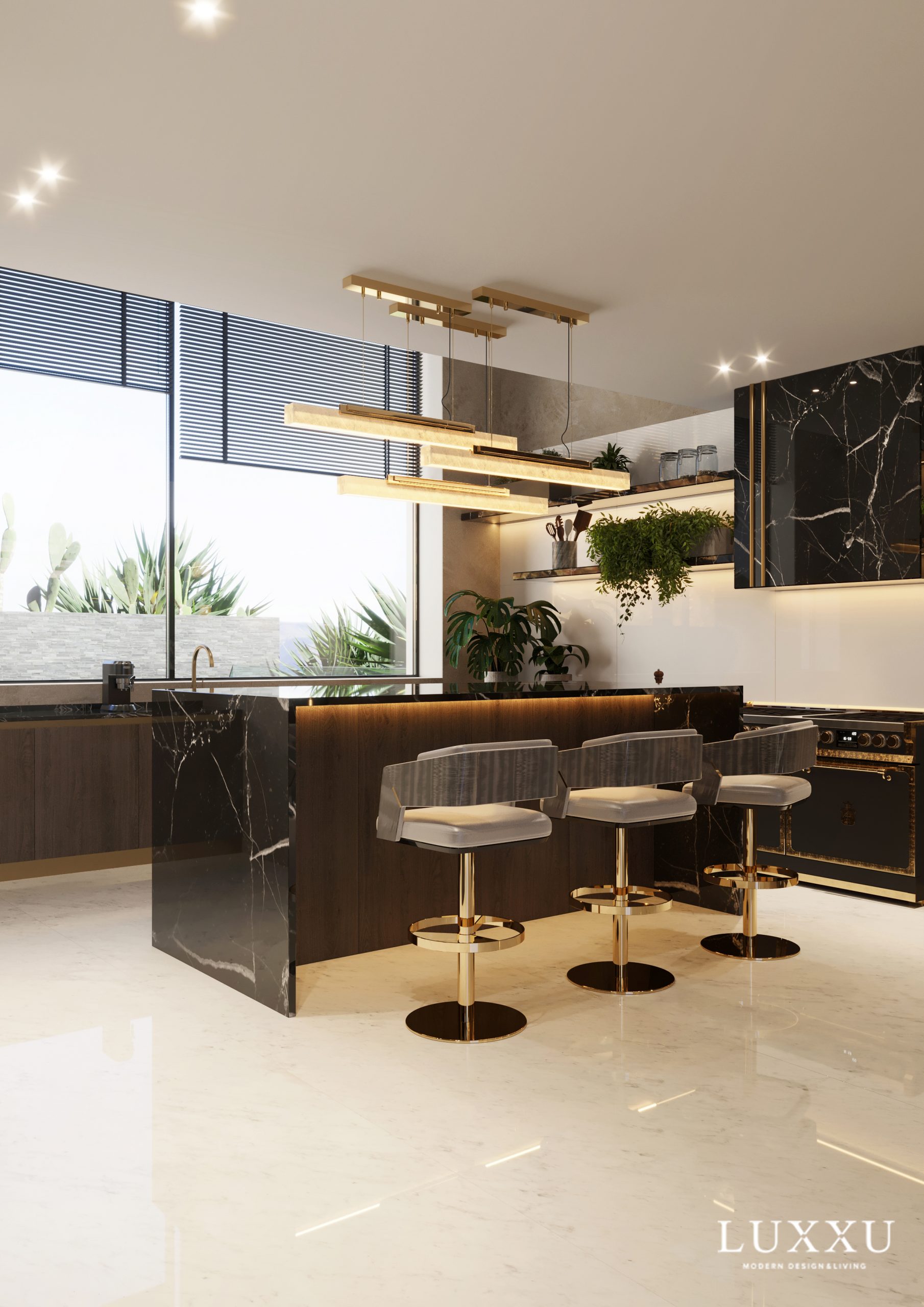 Most notably, the kitchen area combines elements like marble, brass, and wood to create a vibrant space. Due to their intricate character, design elements like the Galea Swivel Bar Chair or LUXXU's Skyline Suspension stand out.
---
---

---
Office
It was intended for this home office to have expansive views of an oasis exterior, where tranquility and creativity are sure to flow. The area is illuminated by LUXXU's Liberty Suspension. Its richness and complexity combine harmoniously, making it ideal for those who value attention to detail. The Algerone Sofa highlights the classic lines and geometric details that the Algerone family is best known for. It is covered in soft brown velvet. The same can be said of the Algerone Center Table, which features marble accents and a classic design.
---
Outdoors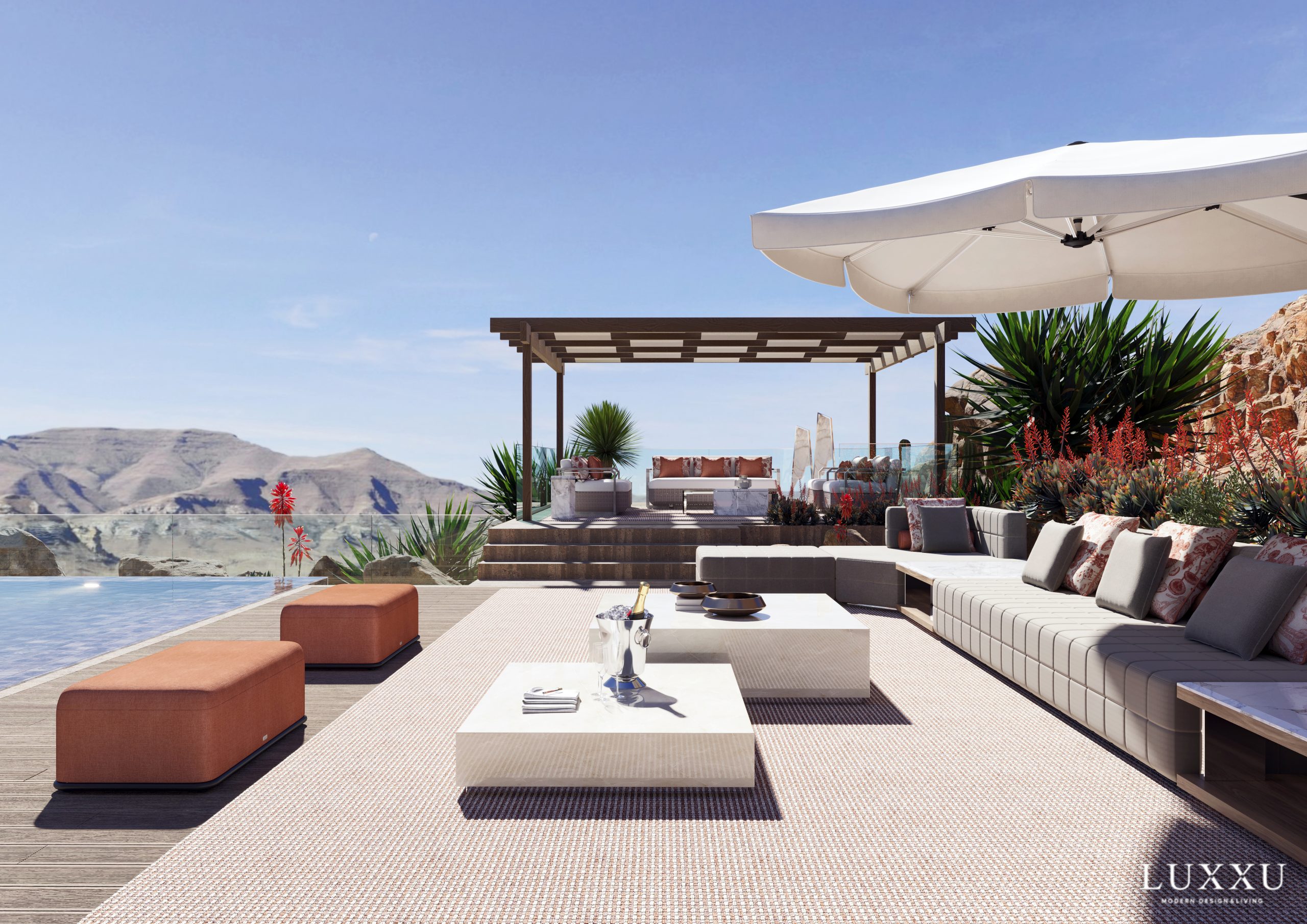 The outdoor space is fairly sizable and divided into a number of relaxing spots so that guests can fully appreciate every aspect of this Texan landscape. You can see outdoor dining and a swimming/sunbathing area as soon as you leave the house; these features were all furnished by MYSA Outdoor, a company that provides an adventurous outdoor experience. Here, the Charla Wood Dining Chairs and Vertigo Dining Table blend beautifully, and the Nebo floor lamp adds a touch of sculptural appeal. The Hampton Sun Loungers, on the other hand, highlight a more minimalist personality with a strong sense of style.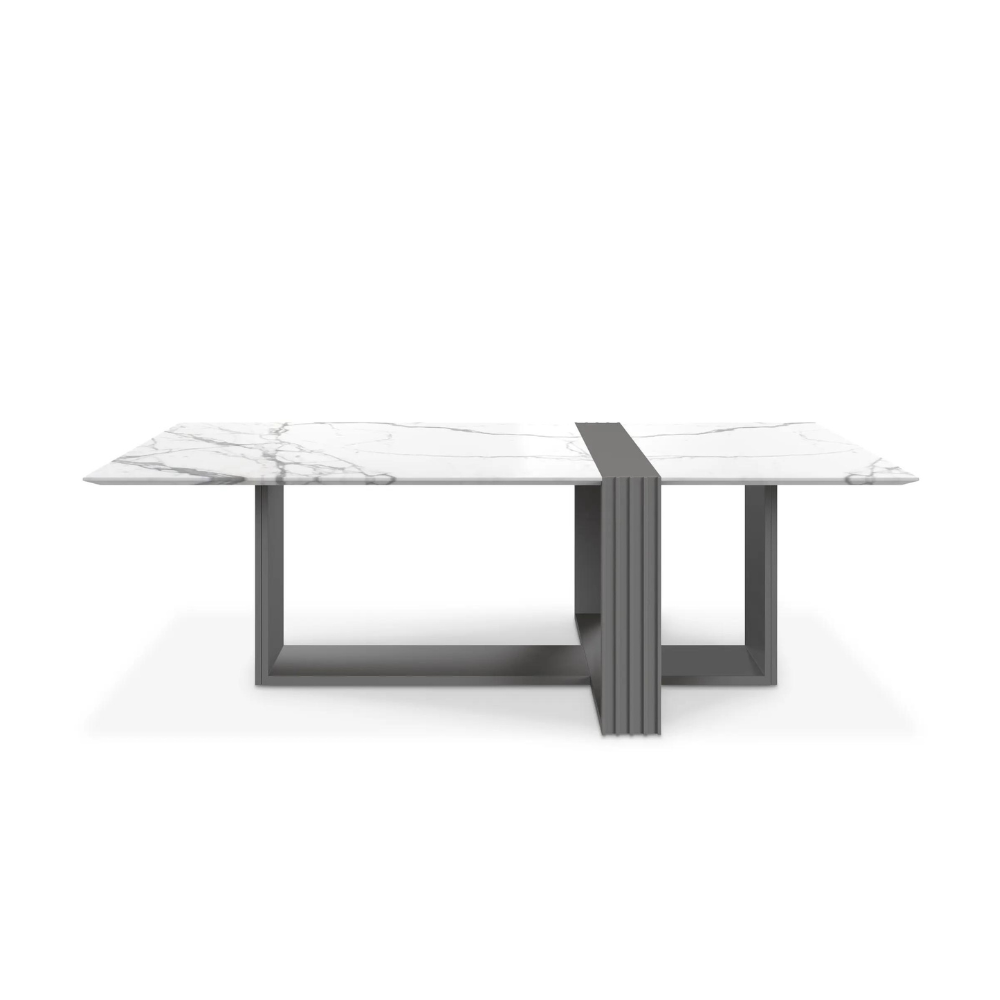 ---