New Collections | How to Combine Leather and Marble – Drawing inspiration from raw lines, natural textures of mountains all the way to the architectural elements, the new collections from LUXXU are here to revolutionize the interior design world thanks to their cutting-edge designs.
New Collections – Algerone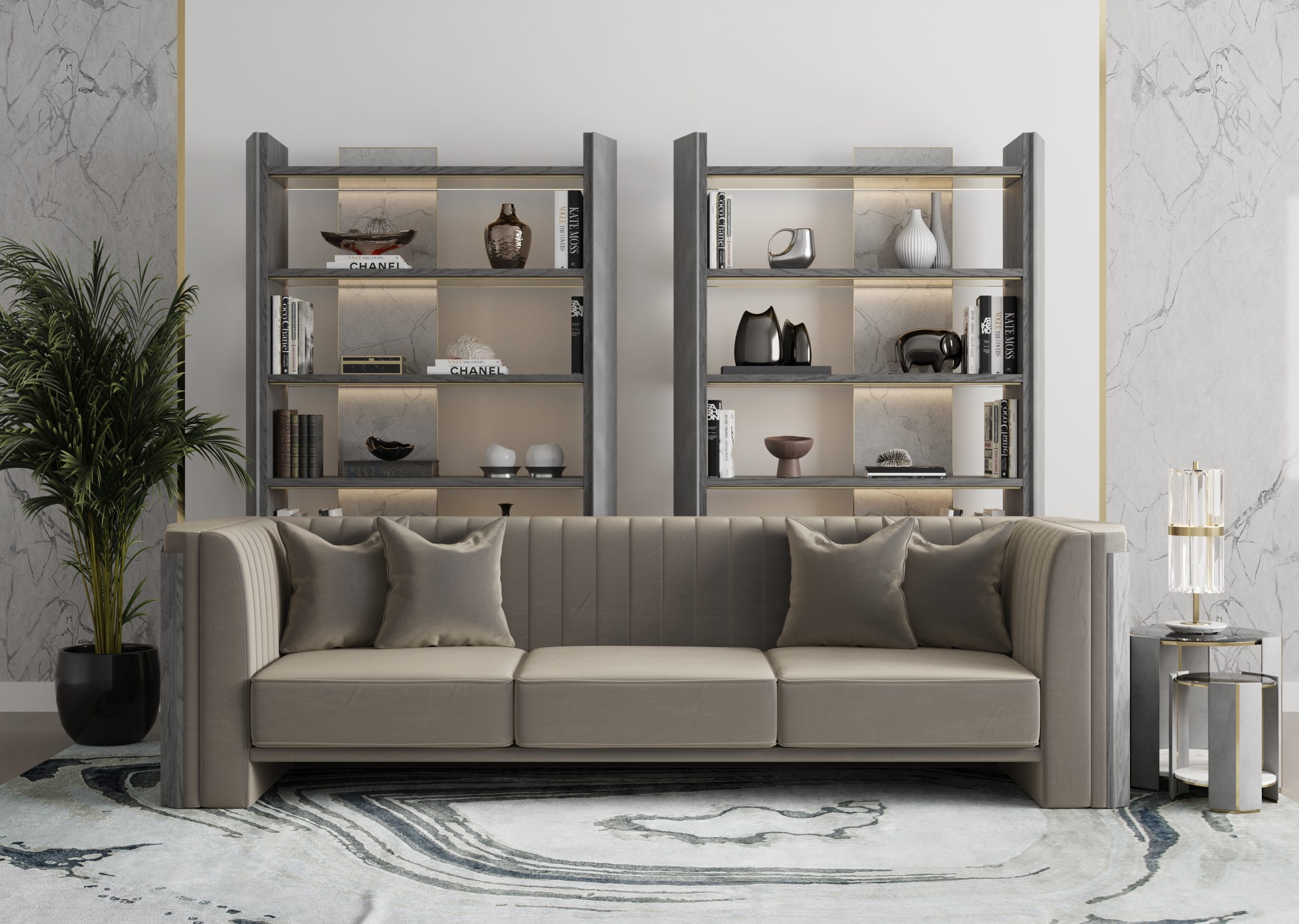 When creating a living room space, we know how important it is to provide the best ambiance both for ourselves and our guests, our new collections help achieve this by providing the best of design and architecture together. The Algerone Sofa, from the new collections, is a magnificent piece created to express the best of comfort and luxury in a single design.  
The Algerone Bookcase is the perfect solution for anyone who wants to complete the décor in a modern, glamorous way, while the Algerone Set Side Table helps with giving a classical appeal to the overall design with its sublime polished brass details, grey leather, and Statuario marble. Giving a final touch, the Liberty Small Table Lamp was designed to compose rooms with boundless elegance and charm.
It's amazing to see how these fantastic items from the new collections come together so perfectly to create such a lovely living area. The Magna Chandelier's use demonstrates how imposing a lighting fixture can be because of its organic shapes inspired by nature, combining modern and traditional craftsmanship skills.
The upholstery is also an important factor here and the Senzu Sofa, with its modern materials such as leather and gold, highlights a rounded form with a neutral color scheme, together with the Otto Armchair which is the epitome of greatness and fortune, translates this design into a statement of modern and stylish décor.
Finishing off with great style, the new collections bring the new Algerone Center Table, which comes with a larger table and a smaller one that provides the ultimate marble aesthetic featuring leather, glass, and brass features. This piece combines perfectly with the Algerone Side Table which exudes the same classic appeal as the rest of the Algerone collection.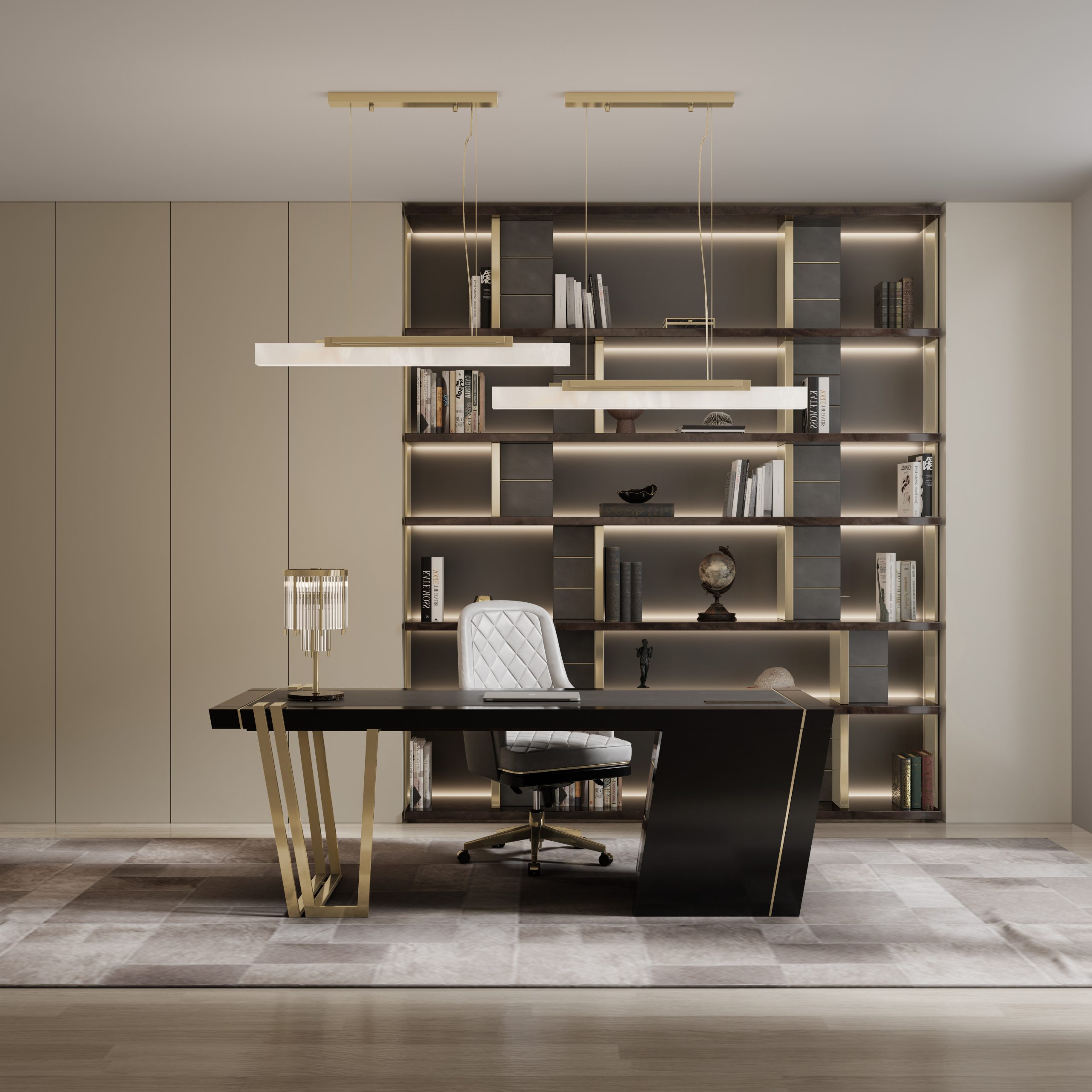 With an increasing demand for home office designs, LUXXU doesn't disappoint by bringing the best solutions with these new collections to create your own luxurious office. Using the Charla Office Chair ensures you'll always have the perfect amount of luxury and ergonomy throughout the day, especially if it's paired with the Apotheosis Desk.
The Skyline Suspension is a must in this design due to it being supported by a brass frame that is seamlessly connected to an Alabaster marble structure that irradiates smooth lighting throughout. These new collections are truly the perfect fit for such a design.
LUXXU knows how crucial it is to have the perfect meeting room in order to give out the best impression to whoever enters it and to feel confident when speaking within it. The Charla Office Chair shines once again however this time paired with the magnificent Algerone Rectangular Dining Table, which belongs to the new collections.
The Harpia Suspension pieces help take this environment back to ancient Greece where power was a way of living. Emphasized by the razor-sharp crystal glass yet the sumptuous gold-plated brass, this lighting piece steals all the attention of the room.
[form_+100_top_interior_designers]  
New Collections – Magna
Within this ambiance, we can see how big an impact the Magna Suspension, from one of the new collections, has on such an ambiance. With its awe-inspiring beauty, this lighting piece features three distinctive trapezium-like shapes. The pendular structure of the Magna Suspension will provide interest and drama to any interior design, especially when paired together with the Algerone Dining Table, with its unique strength and class, and the Galea II Dining Chair which is the perfect modern upholstery solution.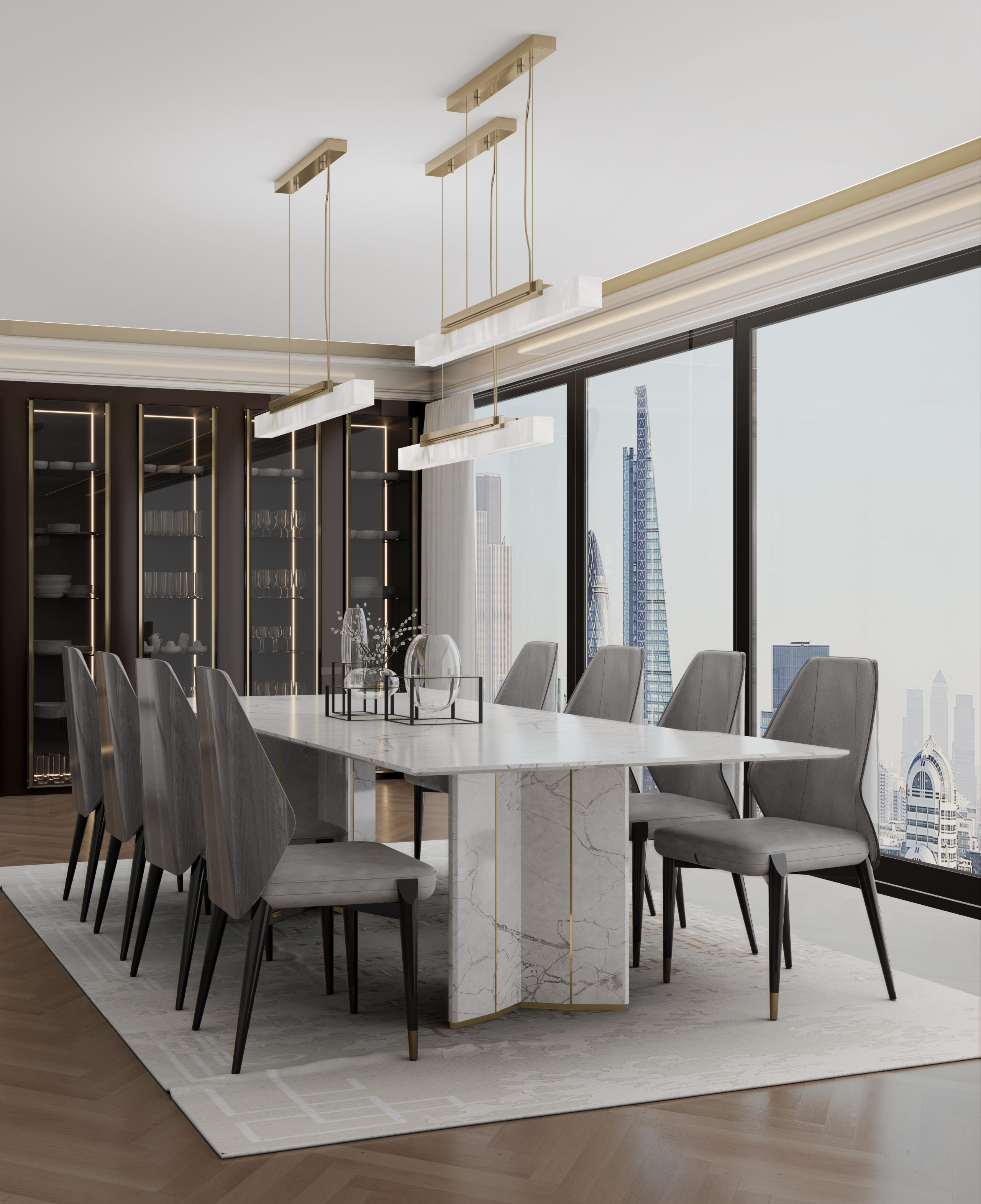 Within these new collections, we can see the magnificent and opulent presence of amazing and exceptional pieces like the Algerone Rectangular Dining Table with its sleek architectural components mixing high-quality materials like Statuario marble and brass to create an enticing statement in this dining room design. https://www.youtube.com/watch?v=wzjj7dTI0VI&t=13s
The Algerone Dining Chairs, which surround the dining table, were created to be a neutral feature in the overall design. These dining chairs exude modernism and timelessness wherever they are put, thanks to premium materials like synthetic leather and a structure with metal and wood elements.
Not forgetting the important role of lighting, the Skyline Suspension, also belongs to these new collections, which provides an incredible highlight to this décor, is inspired by the world's ever-busy metropolises, evoking the grandeur nature of skyscrapers and their shapes.
Have you ever wanted to keep your drinks in a stylish way? With these new collections, you have the Algerone Bar Cabinet which is a sleek and sophisticated design solution, with materials like Statuario marble enhancing the piece's robust and sturdy nature. This bar cabinet is ideal for any open-concept space or contemporary living room, in addition to generating a beautiful visual effect.
To accompany in style this bar cabinet, we can see how the Galea Armchair helps by adding glamour and elegance thanks to materials such as brass, wood, and velvet that draw inspiration from the Roman Empire and blend ancient with modern perfectly.
  SUBSCRIBE
Bedroom Ideas and get all the inspirations and ideas for your interiors!